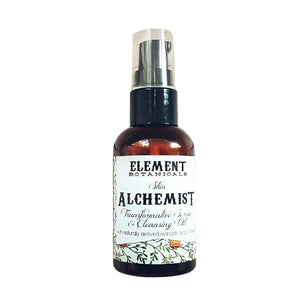 Skin Alchemist - Element Botanicals
Regular price
$22.00
$0.00
Unit price
per
Transform your skin with this 100% natural, light yet potent serum.
Highly concentrated botanicals and extracts deliver intense nourishment and can promote a balanced complexion. Vitamins and antioxidants can help to restore elasticity and clarity, promoting cell renewal and repair. Daily use can heighten your skin's ability to renew, rejuvenate and combat signs of damage. Beneficial and balancing to all skin types.
Versatile and effective as a serum, cleansing oil, spot treatment, around eyes and anywhere the skin needs a dose of nourishment.
As a cleansing oil, this treatment will change the way you think of cleansing. Like attracts like and the deeply embedded bacteria laden oils on your skin will be gently lifted away, replacing moisture and balancing the sebum production of the skin.

To cleanse: Thoroughly massage into dry skin, concentrating on target areas,
gently remove with warm as can be water and a cloth.

Created with your input from our beta product testing!

Key Elements:

Wildcrafted Rosehip Oil: Contains antioxidants and vitamins including retinoids, the natural precursor to retinol; Used extensively in anti-ageing cosmetics.
The components in rosehips have been clinically proven to regenerate the skin, reduce scars and wrinkles, prevent the advancement of wrinkles and aging, as well as to help skin to regain its natural color and tone.

Coffee Extract: The caffeine in coffee encourages overall firmness of the skin and can reduce the puffiness and inflammation associated with dark circles. Additionally, it can reduce the build-up of blood under your eyes which contributes to dark shadows.

Kombucha: Antioxidant rich, it can reduce fine lines and wrinkles, promote a radiant complexion and even out skin tone. Kombucha has been shown to reduce the effects of 'glycation', which basically contributes to the destruction of collagen. It's superfood for your skin!

2 oz with treatment pump
---
Share this Product
---